When it comes to global culinary experiences, Berlin stands out as a city that embraces diverse flavors and cuisines with open arms. Amid this rich tapestry of flavors, the best Indian restaurant in Berlin, "Indique," shines as a beacon of Indian culinary excellence. Within the walls of Indique, the fusion of modern innovation and traditional authenticity intertwines seamlessly to create a haven for those seeking the vibrant and tantalizing experience of Indian street food snacks – the iconic Chaat.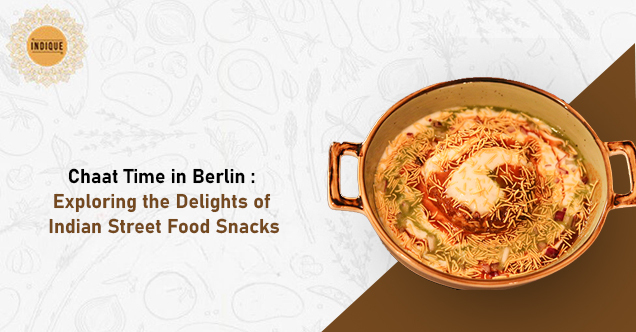 Embarking on a Chaat Odyssey
With an array of Chaat dishes, Indique transports diners to Indian cities, where the delicious street food fills every nook and cranny. Chaat, with its medley of sweet, sour, tangy, and spicy elements, embodies the vibrant spirit of Indian street food. Through its carefully curated Chaat menu, Indique invites patrons on a delectable journey through the diverse flavors of India.
Chaat Menu: A Passage to Indian Street Foods
The Chaat menu at Indique is a treasure trove of delectable experiences, each representing a distinct facet of the Indian culinary culture. Here's a glimpse of the offerings that await at the restaurant:
1. Aloo Tikki
The beloved Aloo Tikki takes center stage with its stuffed and fried potato patties, crowned with velvety yogurt and adorned with zesty tamarind and refreshing coriander-mint chutney.
2. Papri Chaat
A masterpiece of textures, Papri Chaat harmoniously combines crunchy wheat crisps, hearty chickpeas, luscious potatoes, sweet yogurt, and an ensemble of chutneys. The degree of spiciness is a personal choice, promising a bespoke culinary experience for each diner.
3. Golguppe (Pani Puri)
Crispy wheat balls, brimming with a delightful mixture of chickpeas and boiled potatoes, accompanied by tangy and mint-infused water. The burst of flavors with each delicate bite mirrors the lively streets of India.
4. Delhi Aloo Chaat
Crispy fried potatoes are adorned with a range of spices and chutneys. The dish is a testament to the flavors that define the bustling street food culture of Delhi.
5. Bhel Puri
Puffed rice, mingling with onions, tomatoes, and crunchy peanuts, is artistically spiced to create a symphony of tastes and textures.
6. Crispy Corn
Elevating the Chaat experience, crispy corn kernels, kissed by exotic herbs and spices, offer a novel, familiar, and innovative twist.
7. Rajkachori
Heralded as the "King of Chaats," Rajkachori reigns supreme with its blend of diced potatoes, savory chickpeas, tender moong lentils, and juicy fruits. The dish is served in a fried wheat flour bowl topped with yogurt and chutneys.
Final Words
So, the next time your taste buds yearn for an expedition through the vibrant Indian street food, make your way to the best Indian restaurant in Berlin. At Indique, every plate is a story waiting to be savored, and every bite is an invitation to immerse yourself in the enchanting world of Indian street food.