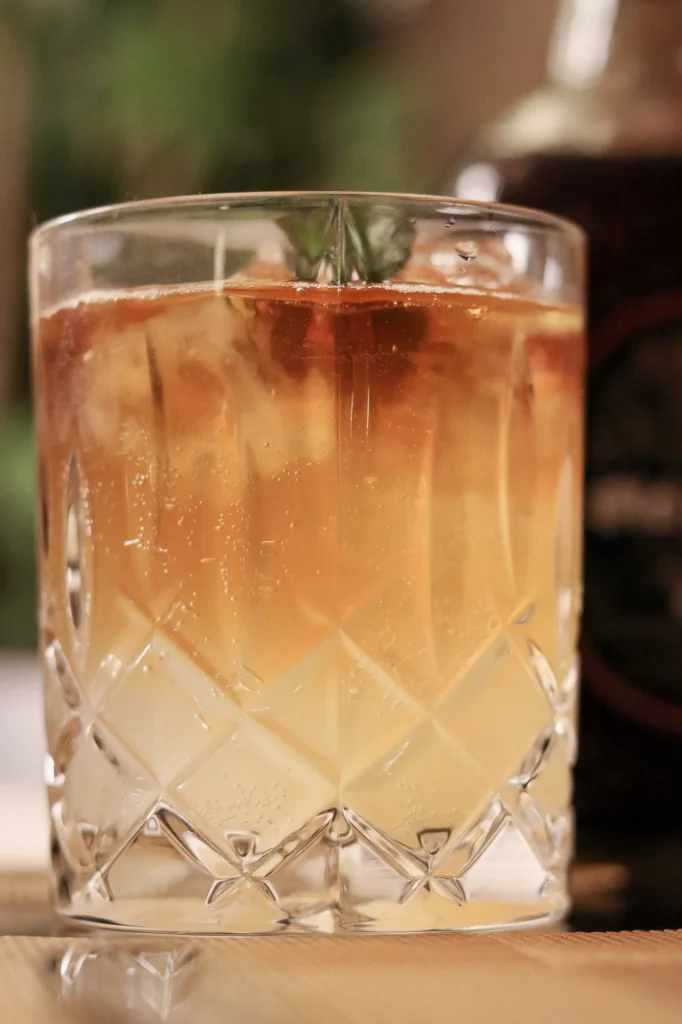 In the month of December 2022, we ran daily specials at The Indique. One such special was our bartender's favourite cocktail recipe: The Dark Monsoon. As always, we do India inspired cocktails, and this is quite certainly very Indian. In essence, it is a version of Dark N Stormy, but made with Indian Rum (Old Monk), and adapted to taste to make it a little bit spicy. For someone that loves cocktails, we loved it, and the guests who had it liked it too, so we thought of sharing this recipe with the global community!
Ingredients:
Ginger Syrup (Monin Ingwer Sirup) 5 ml
Lime Juice (Freshly squeezed) 25 ml
Ginger Beer (Thomas Henry Spicy Ginger) 300 ml
Dark Rum (Old Monk) 50 ml
Angostura Bitters
Fresh Mint Leaves
Preparation:
Add Ginger Syrup, Lime Juice and 3-4 mint leaves to a cocktail shaker, muddle the leaves, and shake well with ice cubes.
Strain into the glass (we used whiskey glass, but you can also use a tall glass)
Add an ice ball, and top up with ginger beer
Gently pour the rum on top to give an effect of dark clouds
Add 2 drops of Angostura bitters on top
Drop a fresh mint leaf on top for garnish
If you like your cocktails to be more spicy, use 10 ml Ginger syrup instead of 5 ml. We do not recommend using much more, as otherwise the ginger taste can get too overwhelming. As with all cocktails, this one too is a good drink to start your meal with, or have it with your food. The ginger beer and mint add to the freshness, and make it one of most famous cocktails for winters.
The drink is now ready to be served. Try it at home and let us know what you think. Cheers!