"Where can I find the best Indian food Berlin offers?" This question is frequently asked by both locals and tourists alike. As connoisseurs of Indian cuisine, we invite you to The Indique, a culinary haven where tradition and innovation blend, presenting the best Indian food Berlin boasts of.
Here, the familiar aroma of Indian gravies won't greet you. Instead, our unique appeal lies in the masterful fusion of Indian food, perfectly synced with European culinary sensibilities.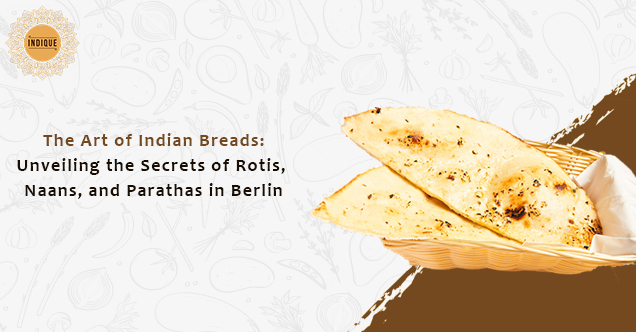 The Best Indian Food Berlin: Unveiling the Secrets of Rotis, Naans, and Parathas
The soul of Indian cuisine is its bread, and at The Indique, we take pride in crafting some of the finest Indian bread. From soft naans to flaky parathas to roomali rotis, each variety on our menu offers a taste of India's diverse culinary landscape, placing us among the best Indian food Berlin has to offer.
Butter Naan: Considered a classic, our Butter Naan is a fluffy, leavened bread baked in a tandoor and brushed with a generous layer of melted butter. Its mild flavor and soft texture make it a perfect accompaniment to rich, aromatic curries.
Garlic Naan: Our Garlic Naan, a variation of the classic, is infused with fresh garlic and herbs before baking, creating a robust flavor profile. It's a popular choice among patrons seeking the best Indian food in Berlin and pairs beautifully with spicy curries and dals.
Plain Naan: The Plain Naan, baked to perfection in our tandoor, is a testament to the art of simplicity. This bread's gentle flavors make it a versatile companion to a myriad of Indian dishes.
Malabar Paratha: A specialty from Southern India, the Malabar Paratha is a layered flatbread, crispy on the outside, yet soft within. Its flaky layers and mildly sweet flavor make it a perfect companion to spicy curries and dry dishes alike.
The Indique's menu curates dishes that harmonize perfectly with these breads. Our dal makhani, for instance, with its creamy, robust flavor, goes wonderfully with Butter Naan. The spiciness of our Chicken Tikka Masala pairs perfectly with the aromatic Garlic Naan. The delicate flavor of our Palak Paneer aligns beautifully with the Plain Naan, while our Kerala-style Fish Curry, with its tangy, spicy notes, matches the Malabar Paratha in gastronomic harmony.
Best Indian Food Berlin: Discover The Indique's Bread Artistry
At The Indique, we not only offer you dishes but take you on a culinary journey that spans the breadth of India. Through our Indian breads, you get to experience this diversity, making us a destination for the best Indian food Berlin offers.
Each bread in our repertoire is the result of careful crafting. From the kneading of the dough to its baking in the tandoor, every stage is meticulously handled, ensuring the authenticity of the taste and texture. Despite our continental ambiance, the heart of our culinary ethos remains deeply rooted in Indian traditions.
So, the next time you find yourself craving the best Indian food Berlin can provide, remember the aromatic world of The Indique is here to satiate your palate. Come join us and discover the secrets of Indian breads, savor their delicious flavors, and let our gastronomic artistry enchant your senses.
Your quest for the best Indian food Berlin ends at The Indique. Experience the art of Indian breads with us, and indulge in a dining experience like no other. Your journey through the delicious world of Indian cuisine starts here. Come, be our guest.