How about mashing potato, brinjal, onion, capsicum, tomato, and maybe some other vegetables together and slow cooking them to perfection. With the taste spruced up by adding butter and Indian spices, doesn't the dish sound like a culinary delight. Well that is Bhaji for you, a typical Maharashtrian dish that is savoured around the globe along with fluffy buns or pav.
And, for those of you who are in Berlin, looking for an Indian Restaurant Berlin, do visit The Indique for this flavourful medley.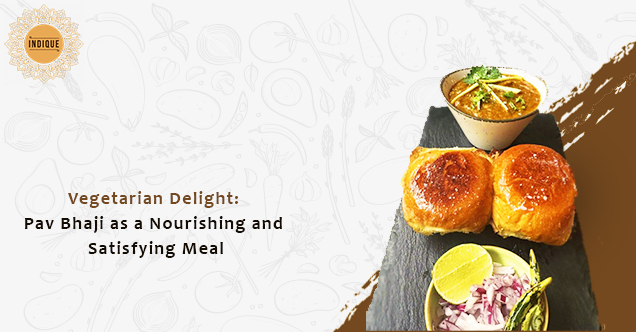 A Balanced Meal for the Health-Conscious
Unlike what you may feel, Pav Bhaji is actually a healthy option to indulge in even on your cheat days. It comes loaded with veggies and can easily provide the nutritious values which any boiled/raw veggie would. Let us have a look below
Vegetables: The bhaji is a mixture of potatoes, tomatoes, peas, carrots, and more. These vegetables are packed with vitamins and minerals.
Spices: Indian spices like turmeric, cumin, and coriander not only add flavor but also have health benefits.
Proteins: With the addition of beans, lentils, or paneer (Indian cottage cheese), it becomes a protein-rich dish.
Now, doesn't having a healthy option on a cheat day sounds like something you would go for?
When To have the Pav Bhaji
You can have it anytime you want! It can be a snack or a meal depending upon how hungry you are. In addition, Pav Bhaji can turn into a great fine dining experience too if you pair it up with the right wine. Sharing three of the best pairings for your reference:
A slightly sweet Riesling can be a great match with its fruity, floral character and refreshing acidity. The sweetness in the wine can offset the spiciness of the dish, creating a pleasant balance.
With its citrusy and herbaceous profile, a crisp Sauvignon Blanc can provide a refreshing contrast to the rich and spicy Bhaji. Its acidity helps in cleansing the palate between bites.
If you prefer red wine, a light and fruity Pinot Noir or Grenache with soft tannins can be a good choice. They won't overpower the flavors of Pav Bhaji and can add an extra layer of complexity.
The Transformation of Pav Bhaji in Berlin
Finding an "India restaurant Berlin" that serves authentic Pav Bhaji is like discovering a piece of Mumbai's street food culture in the heart of Europe.
At The Indique we make it possible by taking the authenticity of the typical Mumbai Pav Bhaji and refining it to suit the local palate.
For this, we source the ingredients locally and use only mild spices to cater to the diverse tastes. However, there is always the option to customise the dish to suit your taste. We can make it more spicy, less spicy, Vegan, or gluten free and serve it just the way you want it.
A Culinary Experience to Remember: Indian Restaurant Berlin
Pav Bhaji is not just a dish but an expression of Indian culture and culinary art. The blend of spices, the texture of the Bhaji, and the soft Pav create a taste that's both unique and universal.
In Berlin, as you explore the thriving culinary scene, an "India restaurant Berlin" like The Indique serving Pav Bhaji becomes a destination not only for a meal but for an experience. The allure of Pav Bhaji transcends geographical boundaries. The dish's versatility, rich flavors, nutritional balance, and its blend of tradition and innovation make it a favorite among vegetarians and food enthusiasts alike. So, next time you're in Berlin and the craving for an Indian vegetarian delight strikes, let the search for an "India restaurant Berlin" guide you to us at the Indique and we will be happy to serve you a plate of delicious Pav Bhaji.