We know your search for authentic "Indian street food near me" in Berlin led you to us, and we promise a gastronomic experience that will redefine your expectations of Indian cuisine.
Far from the regular narrative of Indian food, our restaurant uniquely omits the familiar aroma of gravies. Instead, we proudly offer a flawless fusion of Indian food meticulously aligned with European culinary preferences. Our ambiance resonates with the Indian philosophy of "Vasudaivya Kutumbakam," which translates to "the world is our home," offering a truly global space, yet Indian at its heart.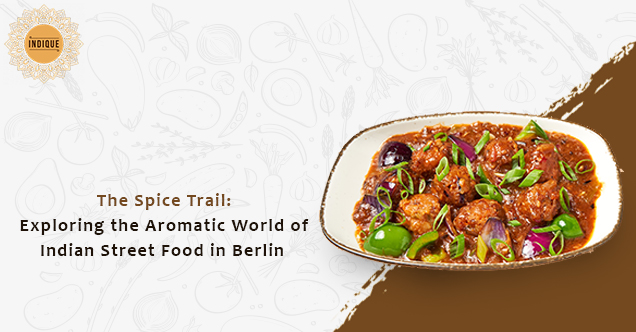 Explore Indian Street Food Near Me in Berlin: Signature Dishes of The Indique
Our menu celebrates India's bustling lanes and vibrant flavors, and we invite you to explore it with us.
Golguppe: One bite of this and you'll be transported to the street corners of Delhi. Crispy, hollow puris filled with spiced potatoes, chickpeas, and tangy tamarind water, Golguppe is an explosion of flavors in every bite.
Aloo Tikki Chaat: A beloved snack across India, Aloo Tikki Chaat combines pan-fried potato patties with tangy chutneys, offering an irresistible crunch outside and a comforting softness inside.
Bhel Puri: This light, flavorful snack of puffed rice, diced vegetables, and tangy tamarind sauce is the perfect balance of sweet and spicy.
Raj Kachori: Regal in name and taste, Raj Kachori is a large hollow puri filled with a medley of sweetened yogurt, hot chutneys, sprouted lentils, and pomegranate seeds. It's a sensory journey that leaves you wanting more.
Crispy Corn: This dish takes the humble corn and transforms it into a delightful snack, dusted with secret spices and offering an exciting fusion of sweet, salty, and tangy flavors.
Our array of rolls caters to a variety of preferences. The smoky and juicy Chicken Tikka Roll, our all-vegetarian Paneer Roll and Vegetarian Roll, and the balanced fusion of Egg and Chicken Roll or Egg and Veg Roll provide a bite of India for everyone.
Papri Chaat: This popular Indian street food is a mix of crispy wafers, boiled potatoes, yogurt, and tangy tamarind chutney, all sprinkled with chaat masala for that extra kick.
Aromatic Adventure: Indian Street Food Near Me
The journey of Indian street food at The Indique is a blend of tradition and innovation. Our culinary experience perfectly answers your search for "Indian street food near me" in Berlin. From our kitchen to your plate, we bring the spirit of Indian streets, its vendors' flavors, and its spices' aroma, all perfectly fused with European sensibilities.
Dive into the world of The Indique, where you are welcomed with the warmth of Indian hospitality and tantalized by the tantalizing flavors of our cuisine. We promise an experience that will leave you with a happy belly and a longing to revisit our aromatic world again.
If you're craving "Indian street food near me," your destination is The Indique – where Berlin meets the vibrant streets of India. See you soon on our spice trail!